Physical Fitness
One of the biggest challenges of becoming a police officer for Mesa Police Department is the physical fitness. The physical performance examination is designed to evaluate a candidate's overall physical condition. The requirements listed below are the minimum standards.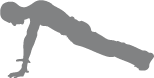 29 push-ups within one minute | Push-up Protocols

31 sit-ups within one minute | Sit-up Protocols

1.5 mile run within 15 minutes and 20 seconds
Note: If you do not meet minimum standards for the test, you will have to start the hiring process over again during our next testing session.
When do you take the physical exam?
Candidates who successfully pass the written examination will then take the physical performance examination.
The physical performance evaluation will take place as early as the following day of the written examination and will continue throughout the week as necessary.
Mental Preparation
Preparing yourself mentally to become a police officer is just as important as physical fitness. As a police officer, you will have to stay calm and collective while making crucial (and possibly life changing) decisions under pressure. You may find yourself in stressful situations where you will have to figure out what to do and then react quickly physically. As part of the MPD, you may also be confronted with situations that will toy on your emotions so it is imperative to prepare yourself mentally for your future career as a police officer.
Note: Applicants must successfully complete a physical performance examination in order for the Hiring Unit to schedule you an Oral Board Interview.